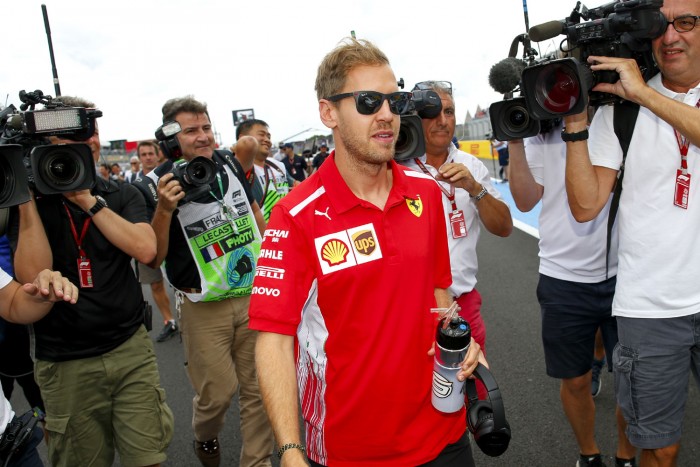 SEBASTIAN VETTEL has revealed he is "not worried" about the mistakes that have plagued his championship bid this year and insists that there is nothing "fundamentally wrong" with the way he drives.
The Ferrari driver lost his lead in the championship last week after he crashed into Valtteri Bottas in the opening corner of the French Grand Prix.
This error sent Vettel to the back of the field and he finished the race in fifth place.
"I'm not worried. I don't think there's something fundamentally wrong," Vettel said.
"I think it's racing. There's some errors that you shouldn't do, some errors that happen - it depends on the type of error.
"I've had a lot of races, it happens - unfortunately it can, but I try to minimise it."
The 30-year-old German driver also made a costly mistake at the Azerbaijan Grand Prix in April.
After a Safety Car restart Vettel attempted to overtake Mercedes' Bottas, but as he executed the pass, he locked up and missed the corner. His decision saw him fall behind Lewis Hamilton and teammate Kimi Raikkonen.
Vettel, who is now 14 points behind Hamilton in the driver's standings, is adamant he will not change his desire to "push the limits" of the car.
"It's a long way and I think it's normal that some things happen along the way," Vettel said.
"Obviously you're also trying to push the limits. It didn't cross my mind when I was in Baku to just stay behind, surrender and let the other person past and collect some points.
"That's not how I define racing.
"Sometimes it works out and it's great, sometimes it doesn't.
This weekend's Austrian Grand Prix is expected to be another close race between Mercedes and Ferrari.
At the end of second free practice Mercedes' set the two fastest times.
Hamilton had the quickest of them all, with a time of 1:04.579, followed by Bottas who set a close 1:04:755.
Vettel was not far off the pace in third with a time of 1:04.815.
"At the end of the year, you try to get everything right and not everything wrong," said Vettel, a four time world champion.
"That's natural. We'll see where we end up. We have a strong package, some races very strong."